European Master TCCM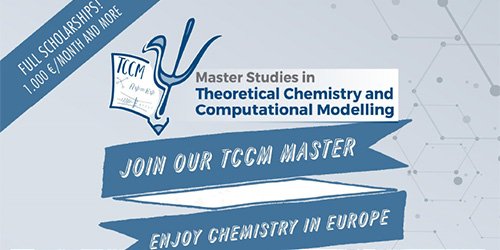 Tuesday 26 January 2021

09:30
European Master in Theoretical Chemistry and Computational Modeling (TCCM).
Dear members of the KNCV-division Computational and Theoretical Chemistry
I am contacting you as coordinator of the TCCM master to ask for your help in the dissemination of a scholarship program that can be of interest to your students.
As you probably know, we have been running for many years a European Master in Theoretical Chemistry and Computational Modeling (TCCM). The master was selected as an Erasmus Mundus Master, this implies that we can assign 25 scholarships per year to finance the master's degree to brilliant students. Most of these scholarships are intended for non-European students and represent a great opportunity to start a scientific career in Europe. They are well-funded scholarships (1000 euros / month, plus tuition fees, medical insurance, installation and mobility) and cover the two years of the master.
I also wanted to indicate that the participation of students from your university can also be an occasion to establish scientific collaborations with partners of our consortium. Although the two-year training program has to be carried out within the consortium members, in case any of your students were selected, they could do the research work on topics of common interest between groups at your University and one of the partners of the TCCM consortium.
I will truly appreciate if you can help us to distribute this information among students at your University. There are several ways you can help us to do this:
By sending by email the brochure with the information of the master and the grants to your students (students in the last year of the degree or that have already finished it can apply in this call) and telling them to contact us in the email at emtccm@uam.es in case of any doubt.

By printing the leaflet and giving the information to your students. The version of the leaflet ready to print can be downloaded from the following link (just print in double side and fold the paper in two)
By printing and displaying the following poster in your university/research center
We would also appreciate if you could follow our social media. It only takes a minute but it helps a lot that yourself and your organization follow our social media accounts and retweet or repost our information on their accounts. We will be happy to follow you back and retweet some of your information as well!
Here are our Twitter and Facebook accounts:
Feel free to use or not the above materials as you consider. We could provide better quality files and also printed copies if you prefer. Please contact us in the following email address emtccm@uam.es to request the material that is most convenient for you.
Finally I would like to stress that we follow an active policy of "gender balance in science" and women applicants are specially welcome.
Thank you very much for your help and best regards
Manuel Alcami
Full Professor of Physical Chemistry
Coordinator of the Erasmus Mundus TCCM master
Department of Chemistry
Faculty of Science M-13
Universidad Autónoma de Madrid
28049 - Madrid
Tel: +34 914973857
Although a detailed information of the master program can be found on the web www.emtccm.org I would like to highlight some of its most important features:
It is a common project of 9 European universities (Autonomous University of Madrid, Barcelona, ​​Valencia, Paul Sabatier-Toulouse, Sorbonne-Paris, Leuven, Groningen, Perugia and Trieste) and involves periods of mobility in at least two of the Universities.
It also involves 32 other international partners (Universities, Supercomputing Centers and Companies) from inside and outside Europe where students can also do mobilities related with the research in their master theses.
It implies a very complete training in a wide variety of methodologies in Theoretical Chemistry and the last semester is dedicated to carry out an original research project that involves at least two partners of the consortium, and that will be the main contents of the Master Thesis to be defended by the student at the end of the Master.
Linked documents

| | Title | Filesize | MIME-type | |
| --- | --- | --- | --- | --- |
| | Leaflet-Low.pdf | 3.1 MB | application/pdf | |